Health tourism in Ukraine is developing. However, even during the coronavirus pandemic, Ukraine attracts thousands of travelers from any corner of the globe due to low prices, good service, and well-developed infrastructure, unique treatments like stem cells therapy. Usually, the expenses for medical procedures here are 3-5 times reduced than in other countries, allowing travelers to save about 80% of their money. People from such places as the USA, the countries in the Persian Gulf, Europe, Asian and African countries head to Ukraine in order to obtain cost-effective medical help.
Keep reading to find out:
why travelers even from the countries with advanced healthcare fly to Ukraine
what medical specialties are the most demanded;
how much you will save receiving treatment in Ukraine;
how to arrange your medical trip fast and safely.
Benefits of Medical Tourism in Ukraine
People who land in Ukraine for medical purposes experience such benefits:
The cost for medical investigations and treatments in Ukraine are 2-5 times lower than in Israel, the USA, Europe. So, people can save about 80% of their money even with all travel expenses. The reduced costs are the results of general price policy within the state and average income of local inhabitants.
Excellent level of medical assistance
Ukraine offers advanced levels of medicine and service. However, travelers should pick private hospitals instead of state ones to obtain the best experience. Most local private clinics icomply with the strict international demands; they have all certificates confirming the high level of diagnostics and treatment. These facilities value each patient, so they update the equipment and employ only the most experienced doctors.
Ukrainian private facilities are ready to serve patients within 1-3 days after a request. So, you do not need to wait and waste precious time.
Well-developed infrastructure
Usually, famous hospitals are located in the city center or near metro stations. So, there is no difficulty in reaching the clinic you need. If necessary, you can always take a taxi. Usually, it costs about $5-$15. Taxi services such as Uber and Bolt are available in big Ukrainian cities like Kyiv, Lviv, Dnipro. After EURO 2012 and the Eurovision contest in 2017, Ukraine significantly improved its infrastructure.
The most popular and advanced hospitals are located in Kyiv, the capital of Ukraine. Here you will find a lot of affordable hotels, malls, cozy parks, cafes and restaurants with delicious food.

Submit a request
Features of Healthcare System in Ukraine
Medicine in Ukraine is represented with:
state
private medical centers.
State hospitals are free of charge for Ukrainian citizens. However, most state hospitals have outdated medical equipment, wards are old, and medical staff receive low salaries. Such medical facilities cannot offer a high level of service and comfort. Still, there are a lot of experienced and highly-skilled doctors working in state clinics.
So, if a person decides to get medical treatments in Ukraine, we would strongly recommend picking private medical centers with proper international certificates (for instance, JCI, ISO). Private hospitals permanently renovate medical equipment, improve wards, and take care of patients' comfort. The staff is well-trained; leading doctors who work there promote their skills in Europe and the USA. Moreover, such facilities have an English-speaking interpreter who will help overcome the language barrier. Private hospitals provide fixed prices for medical procedures, so you always know what you pay for and how much.
When you choose private hospitals in Ukraine for medical assistance, you can be sure that you will obtain the best experience at an affordable price.
Price Overview of the Most Popular Treatments
People from all over the world travel to Ukraine to receive:
plastic surgery
dental procedures
hair transplant
IVF
stem cells therapy.
Plastic surgery
Plastic surgery is one of the most demanded medical services among foreigners visiting Ukraine. Local clinics provide 3-5 times cheaper cosmetic surgery procedures than in the USA or Europe, but the quality of service and medical approaches comply with strict international standards. One of the most experienced specialists in this field is Dr. Andrey Kharkov, with 25+ years of experience and international training in the USA, the UK, Sweden under his belt.
See the price comparison of the most demanded plastic surgery operations:
| Procedure | Ukraine | USA | UK | South Korea | Thailand |
| --- | --- | --- | --- | --- | --- |
| Rhinoplasty | from $2,300 | $5,300 | $5,500-9,700 | $5,000 | $1,300-7,000 |
| Breast lift | from $2,900 | $4,800 | $4,800-9,000 | from $3,300 | $3,000-7,000 |
| Blepharoplasty | $890-3,000 | $4,100 | $2,800-8,300 | $1,000-6,000 | $710-1,900 |
Dentistry
Dental treatment is one more reason why inbound patients prefer visiting Ukraine for health tourism. Ukrainian clinics offer cut prices for dental treatment, veneers, crowns, and implant installation. Despite low costs, the quality remains at the same level as in American or European medical facilities. Top Ukrainian dental clinics use the same materials as in Europe.
Price comparison for the most popular dental procedures:
Procedure

Ukraine

USA

Germany

Thailand

Crowns

$100-250

$1,100-1,500

$350-1,200

$365-760

Implants

$300-700

$3,000-4,500

$3,500

Veneers

$200-620

$900-2,500

from $420
Hair transplant
Ukrainian clinics also perform hair transplants, including FUE (Follicular Unit Extraction) and FUT (Follicular Unit Transplantation) types. The cost of the procedure in Ukraine is one of the lowest in Europe; and it is about 2-5 cheaper than in the USA.
Price comparison of hair transplant:
| Country | Ukraine | UAE | USA | Germany |
| --- | --- | --- | --- | --- |
| Hair transplant | from $940 | $3,700 | from $4,000 | from $4,700 |
IVF
The couples and single women from the neighboring countries, the USA, China also head to Ukraine to experience IVF (in-vitro fertilization). The local clinics have decades of experience in this field, apply the latest technologies, and are ready to perform it 2-3 times cheaper than in the just-mentioned countries. The option of gender choice is also available in some centers.
Compare the prices for IVF in different countries:
| Country | Ukraine | Germany | China | USA |
| --- | --- | --- | --- | --- |
| IVF | $3,300 | $5,300 | $5,500 | $20,000 |
Stem cells therapy
Stem cells therapy is an innovative treatment option based on generative features of these cells that allow treating traumas, joint malfunction, leukemia, lymphoma, cerebral palsy, rejuvenation etc. They are also widely used to fight and correct aging changes. Ukraine is among the few countries where patients can officially receive stem cell therapy at an affordable price.
The cost of stem cell therapy depends on the type of used cells. Usually, the price ranges within $4,000-$7,000.

Submit a request
Top Ukrainian Facilities for Medical Tourism
Most of private hospitals in Ukraine can offer:
updated equipment meeting European and U.S. standards
new comfortable hospital rooms with conditioning, WiFi, WC
special menu for a patient
language assistance in English.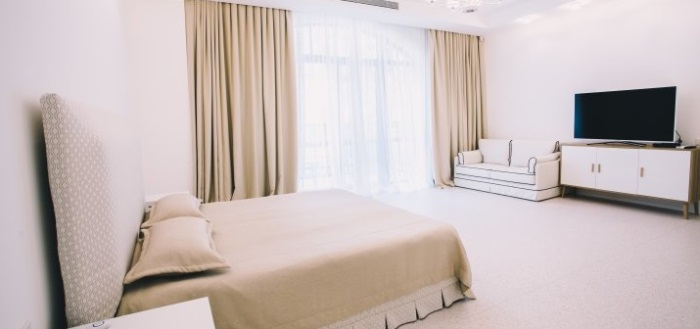 Ward at Perfecto room
Ward at Spizhenko Hospital
Equipment at Spizhenko Hospital
According to Bookimed patients' reviews, the best hospitals in Ukraine are:
Ukraine, Kyiv
Perfecto Room
Endocrinology

Therapy

Plastic Surgery

Aesthetic Medicine and Cosmetology

Weight Loss Surgery
For more options and additional consultation, submit a request on the Bookimed site. Our coordinator will provide all info about each clinic and calculate the total cost for you.

Submit a request
How to Travel to Ukraine in 2021?
A foreigner must have such documents to cross the Ukrainian border:
visa (if required)
passport
health insurance
consular fee payment
negative PCR or express COVID test; certificate confirming the completed vaccination with one of the approved vaccines by the WHO.
Below you can find some info for patients who travel to Ukrainian medical centers from the USA, the UAE, China, the UK, Poland. The info and prices are valid on 28.07.2021, so please carefully check the data before your trip to Ukraine.
Citizens from the USA
Visa: not required for the period up to 90 days of stay.
Duration of flight: 12 hours
Approx. price for a two-way ticket: $750.
Citizens from the UAE
Visa: not required for no more than 90 days of stay
Duration of flight: 5.5 hours
Approx. price for a two-way ticket: $280.
Citizens from China
Visa: required; e-Visa.
Duration of flight: 11.5 hours
Approx. price for a two-way ticket: $870.
Citizens from the UK
Visa: not required for no more than 90 days of stay
Duration of flight: 3.5 hours
Approx. price for a two-way ticket: $80.
Citizens from Poland
Visa: not required for no more than 90 days of stay
Duration of flight: 1.5 hours
Approx. price for a two-way ticket: from $40.
Citizens from Saudi Arabia
Visa: not required for no more than 90 days of stay
Duration of flight: 5 hours
Approx. price for a two-way ticket: from $300.
Citizens from Kuwait
Visa: not required for no more than 90 days of stay
Duration of flight: 7 hours
Approx. price for a two-way ticket: from $250.
Check whether you require a visa for entry on the Ministry of Foreign Affairs of Ukraine site.
Before heading to Ukraine you need to go through the following steps:
submit a request on Bookimed and book a hospital for the medical procedure
send medical records and required analysis to a clinic; doctors develop treatment plan and calculate all the expenses
you will receive a direct bill from a clinic and make a prepayment 10-20% of the total cost to confirm your arrival
after confirming the date of your arrival, it is necessary to buy tickets and book a hotel
Bookimed coordinator books flight tickets and a hotel, choosing the best offers.
The cost of a hotel stay depends on its location and level of comfort. It is possible to find cozy and renovated hotels for $40-$70 per night. Some clinics can provide accommodation for an additional fee.

Submit a request
The Country Overview: Currency, Language, Safety
Most leading hospitals are located in Kyiv, the capital of Ukraine. The city's infrastructure is well-developed, so it will not be difficult for you to book a proper hotel, reach a hospital, or find places to have breakfast or lunch.
The country's currency is hryvnia. You can pay by credit card almost everywhere. However, prepare some cash because sometimes this is the only possible way to pay for the service. There are a lot of currency exchange offices, so you can exchange your money anytime.
Local citizens mostly speak Ukrainian and Russian. Young people also speak English, so you will always find someone to ask.
Kyiv is considered a pretty safe city. But it is better to avoid night walks in the suburbs; always check your wallet and documents, because of jostlers. If something happens to you, call the policy dialing the number 102 or contact your Bookimed coordinator and describe the situation.
Disadvantages of Visiting Ukraine
Visiting Ukraine for health tourism brings numerous pros. However, there are some cons of having the treatment in this country:
local hospitals, state ones particularly, look old; the medical equipment has been not updated for years
there are a lot of traffic jams, so take it into account if you want to come somewhere in time
the war in Donbas region may force you to think that Ukraine is destroyed and staying there is dangerous. All territories under Ukraine's control are safe and look well-maintained.
Under Bookimed assistance, your medical trip to Ukraine will be comfortable and safe. We stay in touch with our clients 24/7 during their visits to Ukraine. The main Bookimed's office is located in Kyiv, so you can always reach us personally.
Summary
Ukraine opens new opportunities for international patients. This country is a happy blend of good service, high quality procedures, and affordable prices. The local citizens are well-educated and open-hearted, so you can always count on help.
However, before booking any of the hospitals, always read patients' reviews to be sure you make the right choice. The best way is to request Bookimed. We are the No.1 medical tourism platform globally that has already assisted over 650,000 patients. Our medical coordinators will provide all info about a clinic, tell you about the features of the country, book a hospital and a hotel. This service is absolutely free. With us, you save your money, time and receive positive experiences overseas exceptionally.

Submit a request
FAQs
What are the features of the healthcare system in Ukraine?
Visiting Ukraine, you have a choice to pick a state or private hospital. You can find highly-skilled doctors in both types of medical centers. However, note that state hospitals are old, the equipment is outdated, long queues for a procedure also take place. Also, it can be difficult for foreigners to schedule an appointment in state hospitals. So, if you want to experience comfortable medical travel, it is better to opt for private clinics. They update the equipment regularly; the staff is polite; by previous appointment, you will not wait in queues.
How many hospitals are located in Ukraine?
About 1,700 hospitals are located in Ukrainian territory. Note that the level of medical assistance, doctors' qualification, and comfort significantly depend on a facility and its location. The most advanced centers are usually located in big cities.
Is Ukraine safe for medical tourism?
Yes, Ukraine is absolutely safe for medical tourism. All you need is to select a hospital and a doctor for your treatment carefully. This recommendation concerns all countries, not Ukraine specifically.
Do I need a visa to travel to Ukraine?
The USA and the European Union citizens are allowed to travel to Ukraine without a visa for no more than 90 days of stay. Citizens of other countries should check the info on the official website of the Ministry of Foreign Affairs of Ukraine.
Citations
1. Wikipedia. (2021). Medical tourism.
https://en.wikipedia.org/wiki/Medical_tourism
2. Ukrainian Association of Medical Tourism. (2020). Medical tourism in Ukraine: innovation, expertise and affordability.
https://uamt.com.ua/en/medical-tourism-in-ukraine-...
3. Joint Commission International.
https://www.jointcommissioninternational.org/
4. Wikipedia. (2021). International Organization for Standardization.
https://en.wikipedia.org/wiki/International_Organi...
5. World Healthcare Organization. (2021). WHO lists additional COVID-19 vaccine for emergency use and issues interim policy recommendations.
https://www.who.int/news/item/07-05-2021-who-lists...
6. Ministry of Foreign Affairs of Ukraine. (2021). Entry regime to Ukraine for foreign citizens.