Before and after hair transplant in Poland
Hair transplant result in India
Are you still in doubts to have hair transplant or not? Just look at the pictures of celebs and other people who have become more attractive and younger after hair transplant. Imagine that you can forget about hair loss, and look like you are 18 again!
Celebrities after hair transplant

Before and after hair transplant photos of Elon Musk, a co-founder and CEO at Tesla, world-renown inventor

Photos of Wayne Rooney, an English footballer, before and after hair transplantation

Hair makeover of Naomi Campbell, an English supermodel

Hair transplant of Elton John, a world-famous singer, ranked among Top 100 most influential musicians

Hair transplant results of Silvio Berlusconi, an Italian politician
Inspired? Continue reading to see the hair transplant results of real patients. We have picked Top 5 medical centers for hair transplant with "before & after" photos of people. You will see how they looked before the procedure, a photo of the head right after follicle implantation, and the final result of the makeover.
While composing the clinic ranking, we took into the price policy of the clinics and professionalism of doctors. It occurred that the most cost-effective offers are available at the medical centers located in Turkey, India, and Poland. You can book any of the listed clinics just right now and change your life forever!
Before & after photos of hair transplant in Turkey

Estetik International is a clinic of plastic surgery with over 85,000 hair transplants on its account.
Seamless FUE and organic transplant operations are performed here. During FUE, a doctor extracts grafts (a set of 1-4 hair follicles) and implants them into the hairless area. Organic hair transplant was developed by Dr. Bülent Cihantimur, the head of the clinic and one of 50 best plastic surgeons in the world. It combines FUE procedure with stem cells therapy to increase the follicles survival rate and speed up the hair restoration in the hairless zone. According to the clinic's data, the success of organic transplantation is 96%. It means that 96 out of 100 transplanted hair follicles take roots.
I had an organic FUE hair transplant last week. My experience was a very positive one, whereby I was treated in a one on one capacity. Every step of the process was explained to me in great detail and my meeting with the doctor was a very professional one. Dr. Aksoz is a thorough gentleman who loves his work.
The surgical process was very long, but my comfort seemed to be a priority, it was painless and the facilities were what you would expect from a top class clinic. All the staff made a great effort to make me feel relaxed and well informed.
John, Ireland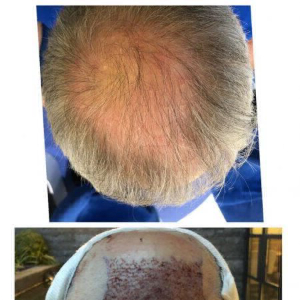 A review was provided by Bookimed patient who had hair transplant at Estetik International.
Before & after hair transplant photos. Source: Estetik International
Before and after organic hair transplant
FUE hair transplant results
Before and after photos of hair implants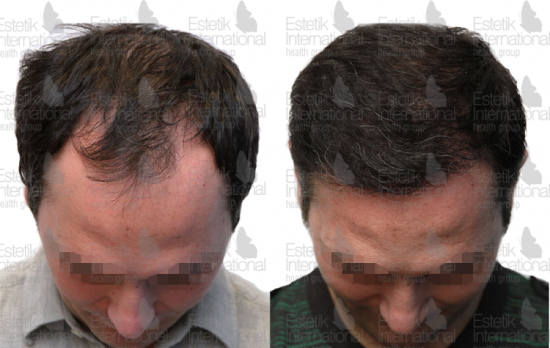 Estetik International is among Top 10 hair transplant clinics in Turkey according to Bookimed because of:
unique hair plantation option — organic hair transplant — invented by Dr. Bulent Cihantimur to add special stem cells injections into the head skin for the better hair replantation result.
popular with international patients — people fromNear East consider Estetik International the best hospital in Turkey for hair transplant.
vast experience — this Turkish hair transplant clinic performs 3,000 procedures annually.
Read more
Prices

| | |
| --- | --- |
| Hair transplant | $2106 - $3387 |
Get hair transplant at Estetik International

Smile Hair is a specialized center for hair transplant. Dr. Mehmet Erdogan and Dr. Gökay Bilgin perform the procedure. Dr. Erdogan has already conducted over 5,000 such procedures. Dr. Gökay Bilgin is a specialist in hair transplant with over 8 years of experience. He specializes in follicle transplant after injuries and burns of the head.
Smile Hair offers a package price for a seamless hair transplant, which also includes PRP-therapy to activate hair growth, 2 nights in a 4-star hotel with breakfasts, an airport-hotel-clinic-hotel-airport transfer, language assistance.
Before and after photo of hair transplant. Source: Smile Hair Clinic
Before & after images of hair transplant: photos of a procedure, the head after an operation, and a final result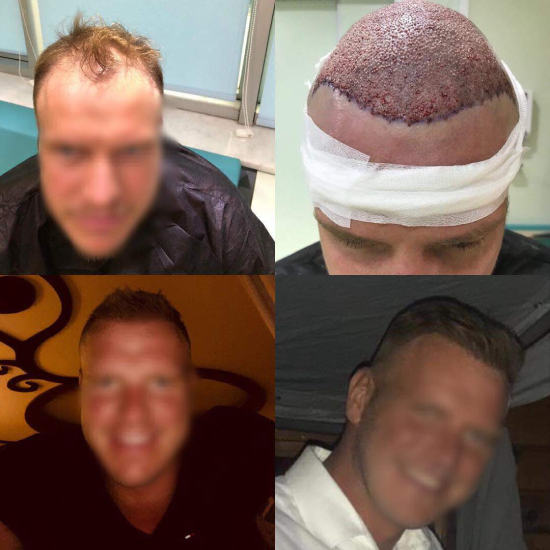 Preparation for hair transplant, a photo is just right after follicles implantation and the final result
Beard transplant before and after
Smile Hair is one of the best hair transplant clinics in Turkey with following benefits:
specialized hair transplant center in Turkey
experienced team — over 2,000 operations per year
micro FUE method — it's a hair transplantation of 4,000 grafts without any scars.
package price — procedure +1 PRP + accommodation + transfer. Click more for details.
accepts patients from 18 to 65 years old.
Read more
Prices

| | |
| --- | --- |
| Hair transplant | $1890 - $2690 |
Get hair transplant at Smile Hair

Adem & Havva is a center of plastic surgery and esthetic medicine in Istanbul with over 16,000 operations on its account.
The clinic offers a package FUE hair transplant price — $1,600. Except the procedure, it covers airport pickup, PRP-therapy helping to survive implanted follicles, 3 days in a 5-star hotel.
Before & after hair transplant in men photos. Source: Instagram account of Adem & Havva Clinic
Male hair transplant before and after
Before & after hair transplant photos
Before and after photos of beard transplant
Adem&Havva is among the best hair transplant clinics in Turkey due to:
package price

— procedure + accommodation + transfer. Click more for details.

top hair transplant center choice for international patients from 45 countries.
comfortable conditions of stay — in a 4-star hotel near the clinic.
Prices

| | |
| --- | --- |
| Hair transplant | $1588 - $1852 |
Get hair transplant at Adem & Havva
Before and after hair transplant photos in Poland

Dr. Turowski Clinic specializes in hair growth restoration. It is a branch of Hair Restoration Center (Chicago, the USA), that is why the level of medical services comply with the American standards.
A manual and robotic FUE transplants are performed for patients with hair loss. The robotic procedure goes faster than a manual one. During it, less implanted hairs are damaged, and the result is more natural. It is performed ,with the ARTAS 9x device equipped with artificial intelligence. The technology analyzes a donor area, selects the best follicles, and extracts them under doctor's control. After that, a robot makes punctures on the hairless area taking into account a natural hair density and hairline growth of a patient, implants follicles.
Before & after hair transplant photos. Source: Dr. Turowski Clinic
Photos of the head after hair transplant
ARTAS hair transplant: before and after
Female hair transplant: before and after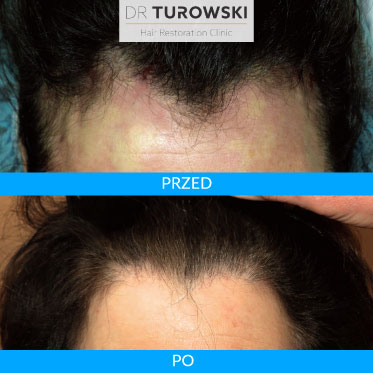 Dr. Turowski Hair restoration clinic is among the best ones in Poland. The newest hair transplant options such as FUE and FUE-Artas robotic hair plantations are applied there.
Dr. Gregory Turowski is a founder and head of this Polish hair transplant clinic. He is the best hair transplant surgeon in Poland. Dr. Turowski was among first ones in the world to apply robotic Artas hair transplant. Hair plantation with robot is more accurate and allows transplanting a higher amount of grafts for one procedure.
The doctor is included in the national "USA Top Surgeons" guide that confirms his professionalism and experience. Dr. Turowski studied at Yale and Harvard Universities, practiced in the leading American hospitals.
Over 10,000 hair transplant procedures have been performed in the clinic. So, a patient can sure of receiving the best hair transplant in Poland.
The hair transplant cost in this Polish clinic is about 10-15% lower than in the countries of Western Europe, and about 30-50% than in the USA.
Read more
Get hair transplant in Dr. Turowski Clinic
Hair transplant result in India

Dr. VJs Cosmetic Surgery Clinic offers the best price for hair transplant among medical centers listed in this article — starting $750.
FUE and Bio-FUE hair transplants are available in the clinic. Bio-FUE combines a traditional seamless transplant and PRP-injections. It improves survival rate of transplanted hairs.
The result of hair transplant. Source: Dr. VJs
A real patients' photo before and after the procedure
Before & after hair transplant photos
FUE hair transplant results
The head of the clinic is Dr. C. Vijay Kumar with over 35 years of experience and 10,000 plastic surgeries performed. The doctor studied in the USA and Austria. It allowed implementing the latest technologies in plastic surgery.
Dr. VJs Clinic provides FUE and Bio-FUE hair transplant. The first one means that doctors apply grafts made of a patient's hair, during the second one — hypoallergenic artificial hair implants are used.
The cost of hair transplant in this Indian clinic starts from $750. This is a price for a minimal amount of grafts.
Submit a request on Bookimed, and get a personalized hair transplant cost in India.
Read more
Prices

| | |
| --- | --- |
| Hair transplant | $750 - $2500 |
Get hair transplant iin VJs Clinic
Summary
According to the International Society of Hair Restoration Surgery (ISHRS), over 350,000 hair transplants are performed annually in the world. Thanks to this procedure people become more attractive and confident. Only your decision sets you apart from a new life.
Get a free consultation